Jim Weinberg Delivers Keynote Address at
Luxury Economics Forum
160 attend conference at The Mansion on Peachtree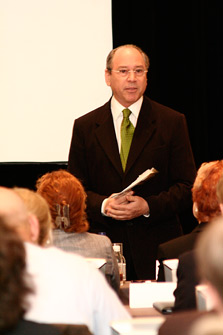 ATLANTA (August 26, 2008) – Renowned interior designer Jim Weinberg delivered the keynote address Aug. 25th at the Luxury Economics forum at The Mansion on Peachtree.
 
160 of the region's top financial planners, doctors, real estate agents and luxury goods marketers gathered to hear Weinberg discuss the topic: "When the Brand is You."
The half-day conference was organized by W. Cliff Oxford Inc.
 
"My number one job is to listen to the client and understand who they are and how they live," said Weinberg. "While the brand is 'me,' successful self-branding is really about listening and responding to 'them,' the client."
 
Weinberg is the founder and president of Jim Weinberg Lifestyles, focused on high-end custom interiors; and Liveable Lifestyles, which creates fully-furnished design packages for high-rise homes.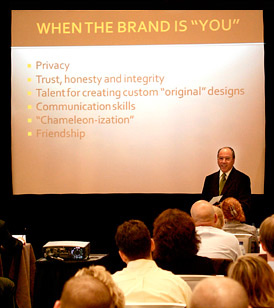 About Liveable Lifestyles:
Liveable Lifestyles is the newest offering from interior designer Jim Weinberg and features complete furnishing packages for high-rise homes. Developers and home owners simply select one of 14 different styles (such as "Corporate Class" or "Zen") and then a coordinating color palette, and Liveable Lifestyles installs a fully-furnished turn-key design (including all accessories, linens and flatware), in 30 business days or less. For more information, please call (404) 355-5999 or visit:
www.liveablelifestyles.com
About Luxury Economics:
Luxury Economics is an Atlanta-based professional education group dedicated to "creating, building and leading luxury sales, service and systems superiority." Founded in 2008, Luxury Economics grew out of the W. Cliff Oxford Executive MBA program at Emory University's Goizueta Business School.